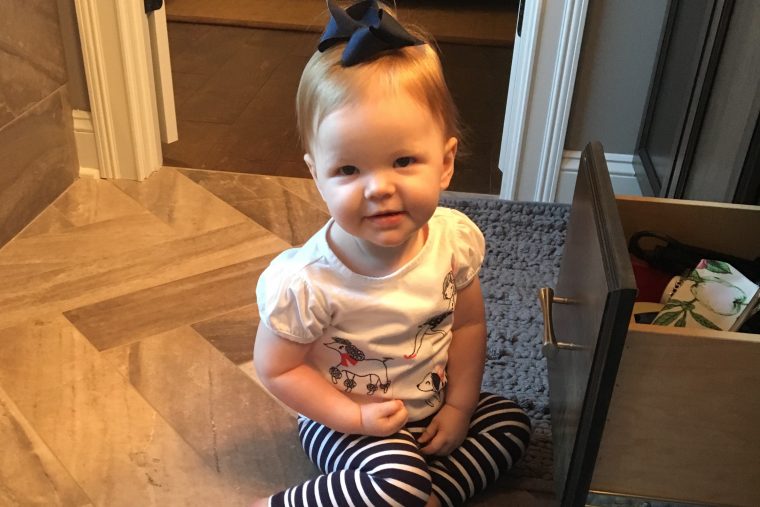 My friends warned me. "Once you hold that little girl," they said, "your whole world will change." I guess I believed them…sort of. In reality, I had no idea what would happen to me the first moments I held my granddaughter.
My whole world changed. From that moment on, everything became about Mackenzie. How is she? What's she doing? Send me a picture! Got a video? I have videos of Mackenzie eating, waving her arms, sitting in a chair, laughing, crying, dancing, and singing. I even have videos of Mackenzie doing nothing at all. I am simply fascinated by all things Mackenzie!
Here's something else I've discovered. No matter where the conversation begins—world peace, terrorism, the economy, politics—I can bring the dialogue around to a place where showing you a picture of Mackenzie is the next natural thing to do. I can turn any conversation into a conversation about my granddaughter. It's the most natural thing to do.
Which made me start thinking about evangelism. Now, hang on for just a moment. I know saying the "E word" sends everyone running for the hills—believers and non-believers alike. Believers run because they don't want to be part of a time-consuming, guilt-based, ineffective outreach to their friends. Unbelievers run because every time a church has an evangelistic emphasis, they feel like they have targets on their backs.
What happened to evangelism? Well, this is where my granddaughter comes in. Though she's only a one-year-old, Mackenzie has become the fascination of my life. I love sitting on the floor with her watching her figure things out. I love watching her crawl up the stairs all by herself and the careful attention she gives each one of her stuffed animals. The more I'm around her, the easier it is to tell other people about her.
There…did you see it? The more I'm around Mackenzie, the easier it is to talk about her.
This why I think evangelism is so hard for most people. They aren't around Jesus enough to have anything to say about Him. Sure, Christians believe in prayer, but it's been years since most Christians have had a conversation with Jesus. It's been longer than that since most of us were studying the Word—really studying—not just reading slowly. No wonder we can't think of anything to say about Jesus. It's been so long since we've talked to Him.
The most common mistake we make about evangelism is we believe it's outwardly focused. Evangelism means going OUT and finding people who don't know about Jesus. We'll do this for a few days, and then we'll wear out because we're trying to go out in our own strength.
Evangelism's first move is inward; it's deeper. The more we get to know Christ, the more we learn of Him, and the more we grow to love Him, the easier it is to find things to say about Him.
Evangelism isn't the outward movement of Christians, but the outward flowing of Christ in us and through us to the world around us. The more we're around Jesus, the easier it is to talk about Him.
The first move of evangelism is not out, but in. Not away, but closer. Evangelism is the natural overflow of the Spirit's work within us. The closer you get to Christ, the more people you'll reach.
It's simple. The more you're around Jesus, the easier it will be to talk about Him. Mackenzie taught me that.