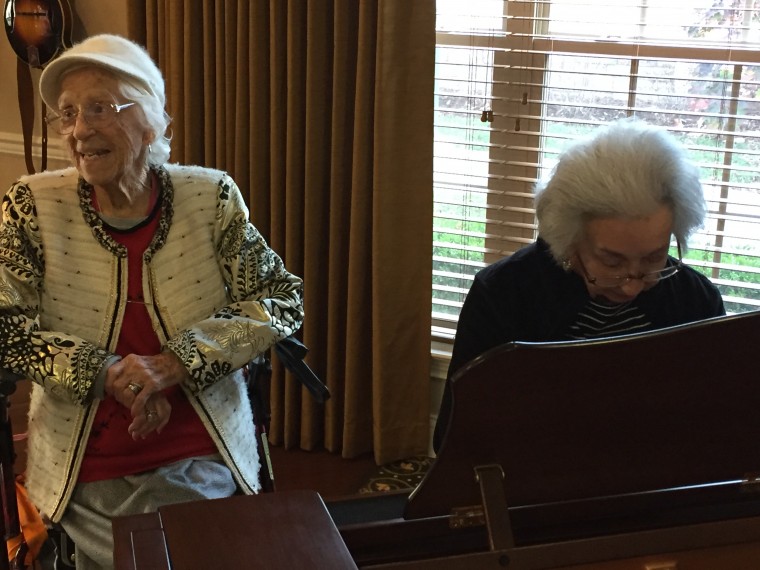 As most of you know, I have coffee with my mother almost every morning. This morning, I got there a little late, and she had already finished breakfast. When she finished breakfast, she moved into the activity room and started playing the piano. When I walked in, I heard the piano. Immediately, I knew it was her playing. As I made my way back toward where she was, I noticed a small crowd gathered around the piano listening to Mom play. Some would clap their hands, others would tap time with their feet, and a few were even singing along.
Mom played her favorite hymns, one after the other. Without ever looking at a piece of music, she played and played. Listening to her play has been the soundtrack of my life.
While I was standing there, one of the women named Elizabeth (that's her in the picture with my mom) reached over and took my hand. She patted my hand and said, "I love hearing your mother play. She helps me through the bad days."
Illness has taken a lot from my mother. A lot of the things she used to do, she can't do any more. There are a lot of things she can't remember any more. But she remembers the hymns. She can still play the hymns. And she does. In a place where she doesn't want to be, she still plays the hymns. It's the way she prays. It's her testimony—her protest against life that has taken so much from her, metered out in 3/4 time.
And along the way, she helps her friends through the bad days. Funny, isn't it? After all of these years, I'm still taking lessons from Mom.