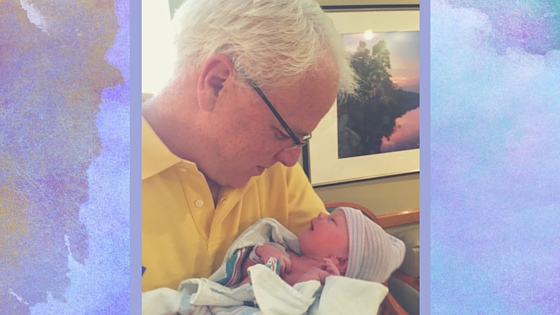 We had been waiting for a long time. Jeannie and I were beginning to wonder if we'd ever be grandparents. We had certainly dropped enough hints to our married sons and their wives…
Then, we got the call. Deb was pregnant and would give birth to our first grandchild in late August. A few months later, we got our first shock—our first grandchild was going to be a girl! A girl? I have no clue how to raise a little girl. Jeannie and I have two boys. I grew up in a home with two boys. Being grandfather to a little girl was going to be a whole new ball game. (Can you say that about a granddaughter? Should I have said this is going to be a brand new tea party?) See, I don't know what to do with little girls.
Mackenzie Rose Glenn, daughter of Chris and Deb, arrived at 10:27 a.m. on Monday, September 1. Jeannie and I, along with Deb's parents, got to be part of this miraculous event. After she was weighed and checked, we finally got to see her.
I finally, FINALLY, got to hold her.
And my world changed. My friends had warned me. "There's nothing like grandchildren," they said. Still, I was totally caught off guard by how fast I started loving this little girl in my arms. Every day I'm surprised by how much I miss her when, actually, I've only known her for a few hours.
And honestly, I've had to rearrange my life. For instance, Jeannie and I are constantly skimming our calendars for times when we can just "run over" and see her. Chris and Deb live in Augusta, GA. It's a six hour drive to get there, but a trip to see your grandchild isn't nearly as long as a trip to simply see your children.
I'm noticing all things pink. I have never bought footies or onesies in my life. Now, I've developed a discerning eye for toddler fashion.
It's funny, but when you hold your grandchild, you're not nearly as afraid as you were when you first held your own children. I guess you think, "If we've raised two boys, we can handle whatever this little girl brings to us."
And then there's the future…I think a lot more about the future than I used to. When you raise your own children—when they get out of school and start their own careers—you have a sense of being done. I can sit back now and focus on things I want to do.
Mackenzie changed all of that. Now, I know I've got to stay in the game. In fact, I have to work a little harder now. The future is going to be Mackenzie's world. I want to make sure it's as wonderful for her as I can make it…
Most of all, I'm very grateful. Chris and Deb are doing fine and Mackenzie is healthy and beautiful. A friend once told me that babies are God's way of saying He hasn't given up on us yet. I'm grateful God hasn't given up and sent us Mackenzie to tell us so.