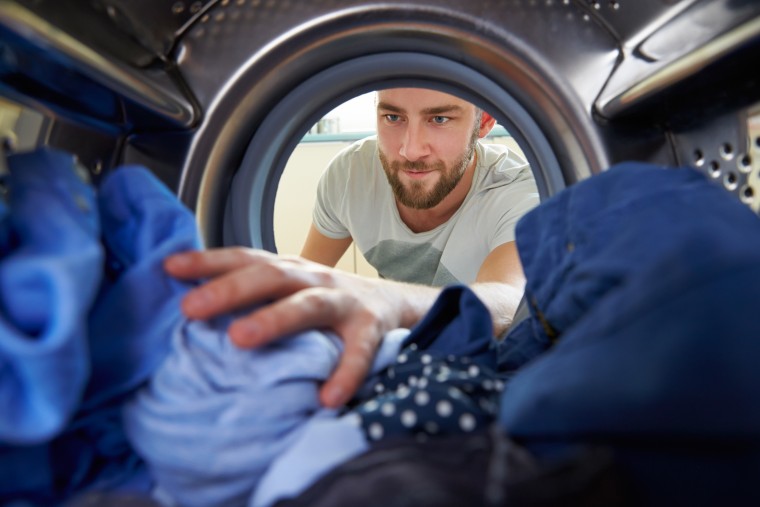 OK, guys, listen up. Our wives are often that we (husbands) don't help out around the house enough. I know, your wife doesn't help you with your chores, but that's another post. The purpose of this post is to share with you a way to help around the house while still paying attention to those things that matter to us such as league standings and potential playoff match ups. As a 35-year veteran of marriage, I've learned a few things, and I'm more than happy to share them with you.
So, how can a guy help around the house and still keep with his fantasy football team? Here are a few hints: 
1. Wash Clothes
While your favorite team is playing, wash clothes. You can easily switch them from the washer to the dryer during commercials. During the course of a 3 1/2 hour game, you can get all of the washing, drying, and folding done. When your wife asks what you're doing sitting on the couch on a Saturday afternoon tell her you're doing laundry.
2. Make the Bed
Come on. You learned this in the army. When you get up, police the bedroom and make up your bed. That way, no matter how crazy the day gets, your wife will have one room in the house that's reasonably clean that will serve as her sanctuary. Clothes on the floor or hanging from doorknobs will not improve her mood.
3. Take Care of Her Car
Every Saturday morning, get up and take your wife's car to the car wash and get her oil changed as needed. For one thing, you need to drive her car at least once a week to see if the "Check Engine" light is on. (How long it's been on is another story.) While you're out, you can meet the guys for breakfast and coffee. Nothing makes you feel better than a good cup of coffee, solving all of the world's problems, and driving home in a clean car.
4. Cook at Least One Meal a Week
And yes, grilling hamburgers counts! Master 2 or 3 of your favorite dishes—tacos, spaghetti, hamburgers—and tell your wife you'll handle dinner on a particular night. My suggestion would be Monday night. That way, you can cook your favorite dish while you listen to the Monday Night Football preview and have a really good meal while the ball game is on.
5. Clean the Toilet
OK, no one likes this one, but let's face it, most of the time a messy bathroom is our mess. I know she has her make up strewn across the counter. Ignore that. Make the porcelain shine, and she'll always have at least one happy thought about you every day.
Conclusion
OK, I know the above is a little tongue in cheek, but guys, if you put a little thought into it, you can find small ways to help out around the house that will greatly improve your wife's mood and as a result, greatly improve the quality of your marriage. It really isn't that hard, and the payoff is well worth the effort!