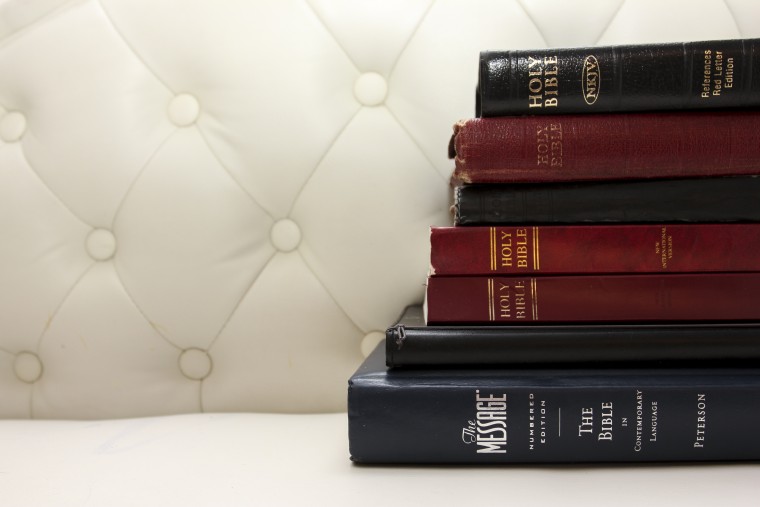 For me, old Bibles are the best. Getting a new Bible is like having to get used to a new friend. You think you're going to like this new person, but it takes you a little while to figure them out.
Old Bibles are like old friends. The two of you have been through a lot together. There are notes in the margins, dates of events, and thoughts I had when I read the passage. There might be a short hand inscription to remind me of where I was and what I going through when I read the passage. Sometimes, there is a note reminding me of when God answered a question through the text.
One Bible I have has a section that's falling out. That was the section that included the book of Revelation. The year I preached through the book, I read and reread the passage so much the book fell out of my Bible. I remember that year. A lot of things changed for me that year. The ragged Bible reminds me of the journey we've been on.
I know all my friends tell about how cool it is to have a Bible on computer. You can speed search, keep your notes in a separate file, and have access to all of your resources.
I guess that's all true. But you can't trace your finger across an underlined passage and remember the reason you had to underline it. You can't look at the coffee drip on your page and remember exactly the time when you bumped your elbow and coffee sloshed over onto your Bible. It's funny that you can remember exactly where you were when the coffee stain was made.
Sure, I use every tool I can to best study the Bible, but I still prefer old Bibles when I read. Computers are great, but they can't be stacked on your shelf like pictures of old friends and places—pictures that remind you of the journey and the joy that comes in every step.
Old Bibles stand on your book shelf and remind you that trends and fads come and go, but this Word doesn't change. The meaning of this text is constant. Old Bibles reminds us there is an unchanging true north, that in good times and bad, will lead us home.