In Real Time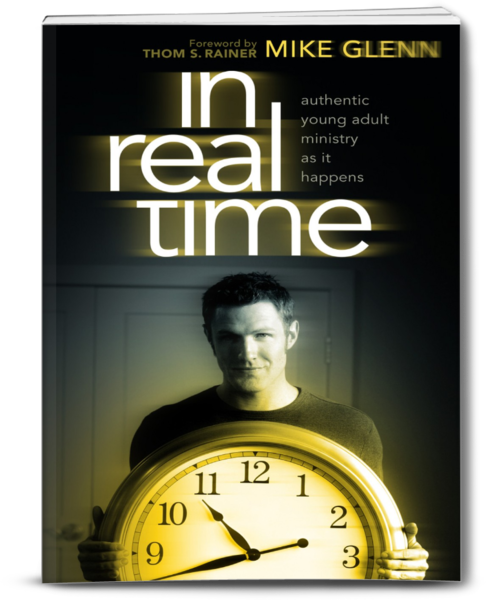 Churches are seeing a dramatic decrease in eighteen to thirty-four year-old members. More and more people among that age group feel less and less connected to church having been raised on a watered-down version of the gospel that spread throughout the baby boom generation. A constant example of conflicting beliefs and actions has rendered the concept of deep life-changing faith hard to imagine but still appealing. Jesus makes sense. Many of the so-called church people they have encountered do not. As the need for culturally and spiritually relevant young adult ministries increases, the best example of a successful program in action today is Kairos, a weekly worship gathering of more than one thousand singles and newlyweds near Nashville.
In Real Time tells the inspiring story of how this remarkable authentic community unfolded, shares working ideas that any church can apply, and offers a taste of the no-hype, prayer-led teaching that fuels Kairos.
Kairos may be closer to the church of two thousand years ago than most today. Read this book. But, even more important, open your eyes and minds to how Christians are supposed to act, to care, and to love.Thom S. Rainer
President and CEO of Lifeway Christian Resources
Purchase
The Gospel of Yes
God would like a word with you…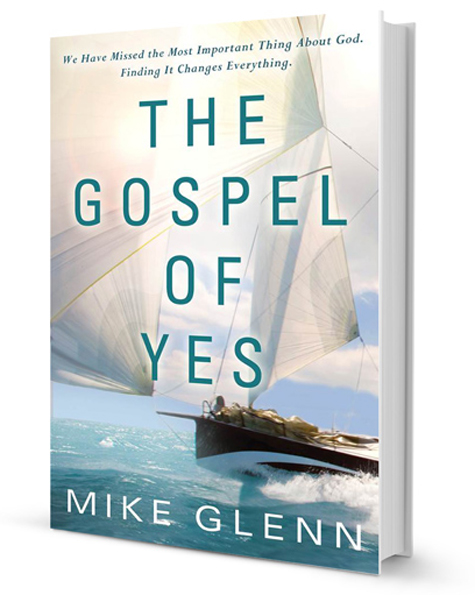 What you believe about God affects the way you approach life—often in ways you don't realize. Are you convinced that God limits you, or liberates you? Is he more interested in correcting you or connecting with you? And when you hit a rough spot and start looking for help, do you believe God is against you or on your side? In The Gospel of Yes, Mike Glenn reveals God's most powerful word, which opens our eyes to everything he does. That word is YES. God said "yes" to creating a world for us to live in and "yes" to inviting us into a relationship with him. No matter what we face in life, the best way to live is captured in one word: YES.
Purchase
What Others Are Saying
"Christians are often known by what they are against rather than what they are for. This stance results from seeing God as a cosmic naysayer, out to coerce our compliance and punish us when we get off track. In The Gospel of Yes, Mike Glenn offers a bold and inspiring corrective. When we start living in the truth of God's 'yes' it changes everything—our view of God, our view of ourselves, and our view of the world. Read it. Embrace it. Share it."
– MICHAEL HYATT
Chairman of Thomas Nelson Publishers,
New York Times Bestselling Author of Platform: Get Noticed in a Noisy World
"Mike Glenn is my pastor, friend, and counselor. He is the right person to author a book about a positive approach to the power and purpose of Jesus Christ. Mike's emphasis on changing our negative views to those things positive was evident back when I first met him. Now, in The Gospel of Yes, he has given all of us the 'yes' that he instilled in me."
-BRAD PAISLEY
Grammy Award Winning recording artist
Country Music Association Entertainer of the Year
"I talk to people every day who have racked up a huge pile of debt and put their families at risk just so they can live someone else's definition of the good life. But there's a better way to live. In The Gospel of Yes, Mike Glenn shows you God's way of living life from the 'yes'. Now you can say 'yes' to destiny, 'yes' to forgiveness, 'yes' to God!"
-DAVE RAMSEY
New York Times best-selling author and nationally syndicated radio host
"God's 'yes' in Jesus Christ leads to our discovering who God made each of us to be. Mike Glenn opens our eyes to the truth that God has said 'yes' over us, and it is our simple calling to do God's 'yes' and to be that 'yes'."
– SCOT MCKNIGHT
Author of Jesus Creed, The King Jesus Gospel, and One.Life
"This is not a 'prosperity gospel, name-it-and-claim-it' book. This is a 'glorious God, love Him and praise Him' book. All Christ-followers will be challenged and encouraged by it. Mike Glenn provides a solid biblical foundation for building authentic relationships with God, with others, and with ourselves.
– SANDRA D. WILSON, PHD
Seminary professor, spiritual director, and author of Into Abba's Arms and Released from Shame
When we want to accomplish something, we start with a clear destination. We don't think about the places we don't want to go, just the place we have determined to reach. The Gospel of Yes is all about living in line with that purpose, with our own 'yes'. Having watched Mike live out his 'yes', and seeing the explosive growth of his church, I am glad he took the time to share his blueprint with the rest of us.
– SKIP PRICHARD
President and CEO of Ingram Content Group
Soon after I started The Gospel of Yes, I was no longer reading the message, I was savoring the message. I heard afresh how much God loves me. I heard anew how much He cares for the plans of my life. I heard that God is more interested in telling me 'yes' than 'no'. This book is remarkable. And my reaction at the conclusion of my reading surprised me. I wanted to read it again.
– THOM S. RAINER
President and CEO of LifeWay Christian Resources
Too many Christians are living a smaller life than the one God designed for them. They accept unnecessary limitations because they fail to trust God's 'yes'. When you listen to God's 'yes', you find your identity and discover your calling. Let Mike Glenn point you toward your destiny as you hear the most powerful word God will ever speak to you.
– MARK BATTERSON
Author of The Circle Maker, Soulprint, and In a Pit with a Lion on a Snowy Day
This was one of those books where my highlighter wore out before I even finished the introduction. I can't wait to see what will happen to a culture that, up to this point, has believed that God's favorite word is 'no'. They will be changed by The Gospel of Yes.
– JON ACUFF
Wall Street Journal bestselling author of Quitter and Stuff Christians Like
Mike Glenn is that rare incisive, profound thinker who knows how to put the cookies on the lower shelf where the rest of us can enjoy them. The Gospel of Yes is filled with chewy delights you can easily reach. Don't miss these treats.
– JERRY B. JENKINS
New York Times best-selling author, Owner of the Christian Writers Guild