Hi, my name is Mike Glenn. I'm a follower of Christ, husband, father, pastor, and author.

My goal with this blog is to have a conversation. I want to talk marriage, family, faith, and life–all from a biblical perspective. I love working with people to help them understand what the gospel means for them in their everyday lives.
The topic I write about most is marriage. I'm passionate about helping people create real and lasting marriages that honor Christ. I believe biblical marriage is a powerful reflection of Christ's love for the church (Eph. 5). I recently celebrated by 35th anniversary with my beautiful wife, Jeannie. Here are some of the things I've learned about marriage:
Marriage isn't a contract. It's a covenant. A promise made by people who keep promises—regardless.
Don't try to fix everything at once. Work on one thing at a time. Marriage is a marathon, not a sprint (More of my thoughts on this can be found in this post)
The first place that biblical marriage has to be restored is in the church. We can't continue to do cute weddings anymore. We must hold weddings, and encourage marriages that are committed to the lordship of Jesus Christ. Your marriage will be the first example of Christ's love for the world that some people will see. (Listen to an episode of my podcast about this topic here.)
Good marriages don't just happen. Good marriages are a result of both spouses acting on good choices. (Read more about this here.)
A couple that can laugh together is a couple that can face the fears of life head on. There's a joy in the laughter that darkness can't suppress. So, make it your goal to laugh a little every day. (Additional thoughts can be found here.)
Friendship is always a key ingredient of great marriages.
Continue to date your spouse. Guys, call her up on Monday and ask her out on a date for the weekend. (I talk more about dating your spouse in this podcast episode.)
According to Jeannie, patience is the key to a great marriage. People do change. It's just real slow.
No marriage is 50-50. Every marriage is 100-100. That is, the husband has to give all that he has to the marriage, and the wife has to give all that she has to the marriage. (I talk more about this here.)
I normally write at least twice a week. To make sure you don't miss anything, you can subscribe via RSS or email. In addition to posts found here, I have a weekly podcast called, Creating Real Marriages that Last. You can also follow me on Twitter or like my Facebook page.
Here's a little more about me
My Faith
I met Jesus for the first time when I was about seven years old. I love to tell people about who Jesus is, what He has done for me, and what He can do in the lives of other people. Living in relationship with Jesus Christ is the one thing that defines my ministry. Following Jesus makes a difference in our self-understanding, our relationships, and our purposes in life.
My Marriage
My faith in Christ influences every area of my life—especially my marriage to Jeannie. We've been married for over 35 years, and she continues to put up with me. She is my safe place. The one place I can go and just breathe. A friend of mine introduced us. I don't know if it was love at first sight, but it was pretty quick. We were engaged 3 months later and married 10 months after that. She's the most fascinating woman I've ever met. She's funny, beautiful, and strong when she needs to be, but always compassionate. I watched her raise our sons. There isn't a man alive who's more fortunate than I am. Every day I'm reminded of what a gift from God Jeannie is to me.
My Family
Our twin sons, Chris and Craig have grown up to be good men in their own right. Both have married extremely well (We love Deb and Nan!), and both are successful in their chosen careers. As parents, we couldn't be prouder. And I'm going to be a grandfather in August! Chris and Deb will be welcoming a little girl into our family.
My mom was diagnosed with Alzheimer's and vascular dementia, and earlier this year I had to move her to an assisted living facility near where I live to care for her. The move has been difficult for all of us, but we are learning a lot in this new season of her life and ours. My mom and dad were married so long they became one word, "John and Barbara Glenn." You didn't see one without seeing the other. The two of them were a great team. Dad died three years ago, and he left me a legacy of what a good dad looks like…a legacy that I am, as a dad myself, trying now to pass on to my sons.
My Ministry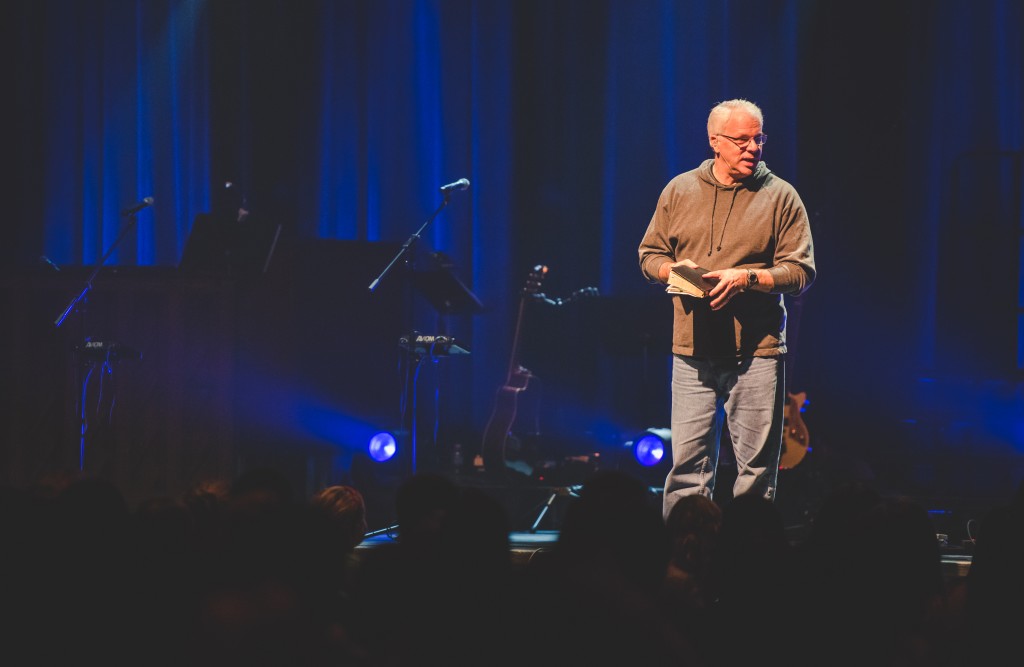 I became the Senior Pastor of Brentwood Baptist Church in 1991. Being the pastor of this church still challenges me in every way. I'm one of the few pastors you know who loves coming to work. I love the opportunities God is opening up for our church and the team I work with. I could easily be guilty of over-working, but honestly, it wouldn't feel like work.
In addition to my role as Senior Pastor, I also serve as the primary teacher of Kairos, our weekly young adult worship gathering. I've been very involved in Kairos since it began over ten years ago because I'm passionate about teaching and leading young adults to become all that God has called them to be in their relationships, careers, church involvement, and all other areas of their lives.
I graduated from Samford University in Birmingham, Alabama and The Southern Baptist Theological Seminary in Louisville, Kentucky. Since then, I have pastored churches in South Carolina and Tennessee.
I've written two books, In Real Time and The Gospel of Yes. You can also download my free e-book, Marriage Tips: 170 Ways to Love Your Spouse.
Contact Mike Ask Mike to Speak